Earlier Updates and Activities
Gerald McWorter (Abdul Alkalimat) and Kate Williams-McWorter presented an April 3, 2019 talk, Abolitionist Village to the Smithsonian, with the theme of Langston Hughes' poem, "Let American Be America Again," on archaeological and historical research concerning New Philadelphia, the first town in the United States planned in advance and legally founded by African Americans (Frank and Lucy McWorter, 1836). This presentation is based on their 2018 book entitled New Philadelphia (Path Press, Evanston, Illinois)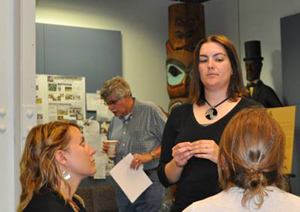 Congratulations to Kathryn Fay for successful defense of her doctoral dissertation at the University of Illinois in February 2016! Kati served as an excellent instructor and supervising archaeologist in the NSF-REU program at New Philadelphia from 2008 through 2011. She has also received a number of awards for excellence in teaching at our university. This photo shows Kati with two of our NSF-REU interns in the 2011 field school.
Kati's dissertation title is "Commodity of Choice: Gender Roles, Racial Dynamics, and Material Consumption Patterns at New Philadelphia, Illinois." Here's a partial summary of her study: "The focus of this research project is the frontier town of New Philadelphia, Illinois (11PK455), the first town legally platted and planned in advance by an African American in the United States. New Philadelphia was established in 1836 by Frank and Lucy McWorter, who had freed themselves from enslavement in Kentucky. The town was conceived as one open to whoever wished to purchase lots and live there, which ended up including both free African-American and European-American citizens. The town grew until shortly after the Civil War, when the bypass of the town by the railroad and other economic factors likely led to its decline. The land reverted to largely agricultural use until the National Science Foundation-funded New Philadelphia Archaeology Program began in 2004, hoping to uncover material and structural remains of the frontier town, as well as make the story of its inhabitants more known to the public. This analysis specifically focuses on the home and farm site of Louisa McWorter, located on Block 13 of New Philadelphia. Louisa was the daughter-in-law of the town's founders, having married one of their sons, Squire, in 1843. She was widowed 12 years later, left to continue the farm, raise children, and care for extended family members as the head of her own household. Several years of excavation on this site yielded over 20,000 artifacts and the remains of the foundation of the house."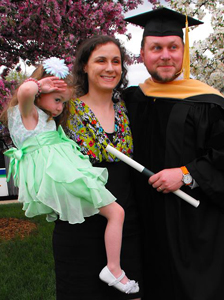 Congratulations to Chris Valvano on a successful defense of his doctoral dissertation at Michigan State University in May 2015! Chris served as an excellent instructor and supervising archaeologist in the NSF-REU program at New Philadelphia from 2004 through 2006. This photo shows Chris with his amazing wife Dimity and daughter Libby at graduation.
Chris' dissertation title is "'Some Day on American Soil:' The Material Record of New Philadelphia and the Middle Class on the American Prairie." Here's a summary of his study. This dissertation asks: What is the material expression for the emergent middle class on the American prairie during 19th-century? It develops a model of a prairie-middle-class based on the material and documentary datasets at New Philadelphia, Illinois. These two datasets comprise a single historic-archaeological record that was created by people living in this town during the middle decades of the 19th century. New Philadelphia was a founder town, established by Free Frank who was born into slavery but purchased his freedom, along with 13 family members. Chapter 1 presents the research question: What is the material expression of the emergent middle on the 19th-century American prairie? Chapter 2 outlines the historical developments necessary for the emergence of the middle class on the American prairie during the 19th century. Chapter 3 presents the theoretical context for examining the historical archaeological record at New Philadelphia. Chapter 4 presents the methodology of historical materialism to explain social change through processes of change. A model for the expansion of the capitalist mode of production is stated. This model forms the basis for four hypotheses about the broad cultural experience with capitalist expansion. Each hypotheses leads to specific sub-hypotheses about the personal experiences at New Philadelphia. These sub-hypotheses are bridging arguments to connect the local manifestation (that is the historical-archaeological record) to the wider process of capitalist expansion. Chapter 5 presents the conclusions and suggestions for future work.
And congratulations to Annelise Morris on a successful defense of her doctoral dissertation at the University of California at Berkeley in May 2015! Annelise served as an NSF undergraduate intern in 2008 and as an excellent instructor and supervising archaeologist in the NSF-REU program at New Philadelphia in 2011. Her senior honors thesis at the University of Illinois was published in the September 2009 African Diaspora Archaeology Newsletter as an article entitled "Religion, Social Networks, and Temperance in New Philadelphia, Illinois." Her dissertation project is described in part in a terrific article on her research in Southern Illinois in the Fall 2014 issue of the peer-reviewed Journal of African Diaspora Archaeology and Heritage. She also received the first-place award for the Society for Historical Archaeology's (SHA) Diversity Field School Award in 2014. That award recognized her excellent work as a collaborative archaeology project manager and her success through a research design and public participation in enhancing the diversity of our field of science. The SHA congratulated her for excellence in "making the field of historical archaeology more inclusive of race, ethnicity, gender, sexual orientation, abilities, and socio-economic background" and showing "a commitment to increasing diversity in the field." Annelise's field school, 2014 article, and 2015 dissertation focus on her site at Lawrenceville, Illinois.
Congratulations too, to the New Philadelphia Association (NPA) for great work in developing on-site exhibit spaces at the New Philadelphia National Historic Landmark. Please visit the town site soon to learn more about amazing stories of history, archaeology, and African-American accomplishments. Historian Claire Fuller Martin and archaeologist Dr. Terrance Martin have worked with NPA to develop exhibit signs, a self-guided tour, and a mobile application you can use on a tablet, smart phone, or other PDA while walking around the site.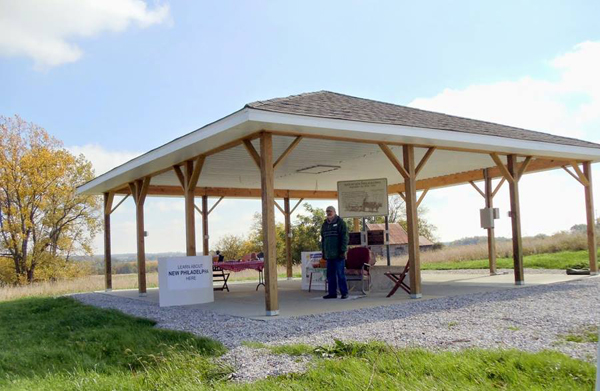 Exhibit space at New Philadelphia Landmark site.
2014 photograph by Claire Martin and spatial scale provided by Terry Martin.
U.S. Senators Durbin and Kirk advanced a bill in the Senate (S. 1328), and Congressman Aaron Schock advanced a matching bill in the House of Representatives (H.R. 930) to have the National Park Service assess the New Philadelphia National Historic Landmark site for inclusion as a unit in the NPS system. President Obama signed this legislation into law on December 19, 2014
Many thanks to Charlotte King for her tireless work with our representatives to advance this legislative initiative! Listen to Charlotte's related testimony before a House committee online, and read her 2014 article in Illinois Antiquity. The New Philadelphia National Historic Landmark was added to the National Park Service's Network to Freedom of "Underground Railroad" heritage sites in the summer of 2013.
Congratulations to Mary Kathryn Rocheford for successfully passing her final examinations, defending her dissertation, and receiving her PhD in Geosciences in Spring 2014! Her study examines geomorphology questions at the New Philadelphia Historic Landmark and the Plum Grove Historic Farmstead in Iowa. Chris Fennell enjoyed the privilege of serving on her dissertation committee, and Prof. Art Bettis, III, University of Iowa, served as her advisor. Congratulations too to George Calfas, one of our archaeology supervisors at New Philadelphia, for completing his PhD in December 2013 with a dissertation focused on the archaeology of 19th-century stoneware manufacturing at Pottersville, South Carolina.
Co-editors Dr. Anna Agbe-Davies and Kathryn Fay completed excellent work in writing, editing, and compiling our "2013 Archaeology Report for 2008-2011" at the New Philadelphia Historic Landmark. This cumulative report, comprised of fourteen chapters and an appendix, is available online.
Several members of our New Philadelphia research team published a thematic issue with the "Historical Archaeology" journal in 2010. We also maintain our large-scale public archaeology and public history internet sites about New Philadelphia which receive a lot of traffic. A fair number of college instructors use these web sites as lesson plans, where students can track individuals and particular families through documentary records, oral histories, and the archaeology. The SHA (http://www.sha.org/), which publishes the "Historical Archaeology" journal, graciously granted us permission to post open-access, pdf copies of all of the articles the 2010 thematic issue on our project web site along with the other materials. You will now find these available online. Many thanks to the SHA!
Our 2011 archaeological field school ran from May 23 through July 29, 2011, at the New Philadelphia town site and the Illinois State Museum's laboratory facilities in Springfield. Our field school, sponsored by the National Science Foundation's program of Research Experiences for Undergraduates, became of such interest that we received inquiries by individuals in Europe and West Africa seeking ways to participate. We received over 60 highly competitive applications for nine undergraduate internships in our 2011 field school. Applications were reviewed and evaluated by a faculty committee consisting of Anna Agbe-Davies, Terry Martin, and Chris Fennell. The application process is demanding, and requires two letters of recommendation, a personal statement of interests, and transcripts from each student. We were highly impressed by the academic accomplishments and intellectual investment in this project demonstrated by the students selected to participate. These nine outstanding NSF-REU undergraduates enrolled from across the nation, from Howard University, Hofstra University, New College of Florida, University of California at Berkeley, University of Idaho, University of Maryland at Baltimore, University of New Hampshire, Wayne State University, and Wesleyan University.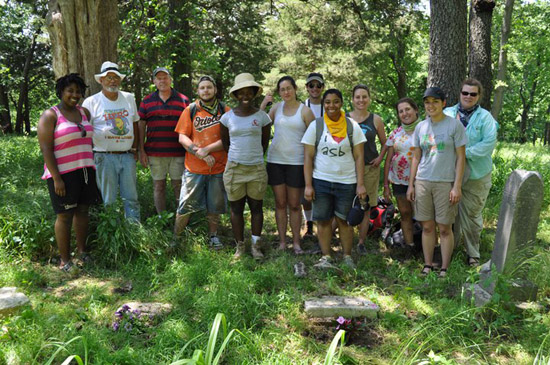 Our 2011 field school participants visited the McWorter cemetery near New Philadelphia on Memorial Day and placed flowers on Frank and Lucy McWorter's grave sites in commemoration. May they rest in peace and their family legacies excel.
In conjunction with the field school, the Marvin J and Thomas Leo Likes Memorial Lecture Series for 2011 was convened with the theme of "Memory and Heart: Pasts and Presents of African American Communities." Speakers in these events included Annelise Morris, NPS Superintendent Dale Philips, Mary Kathryn Rocheford, Edward González-Tennant, Dr. Vibert White, Dr. Paul Gardner, and Dr. James Davis. View our series program for the schedule, locations, and details.
Our 2010 and 2011 field school teams uncovered the foundation and basement of Louisa McWorter's mid-19th century house and a nearby well. Artifacts include an 1862 coin in the foundation fill and buttons from Squire McWorter's Union Army uniform from the Civil War. We experienced heavy rains this field season, but progressed well. We wrapped up in the field and moved to Illinois State Museum's laboratory facilities for another five weeks of research and analysis. The images below show our Teams X, Y and Z excavating the Louisa McWorter house site and associated features in Block 13 at New Philadelphia, Illinois, in June 2010 (photographs by Chris Fennell). Our 2011 field school will return to the site of Louisa McWorter's house for further excavations, in addition to several other targeted areas.
The Archaeological Conservancy implemented a plan to acquire and conserve a portion of the New Philadelphia town site. The Conservancy, established in 1980, is a national non-profit organization dedicated to acquiring and preserving the best of our nation's archaeological sites. Learn more about the Conservancy from their web site, at http://www.americanarchaeology.com/. The Conservancy also sponsors the "American Archaeology" magazine, which published an article on New Philadelphia, written by Malcolm Gay in 2008.
Chris Fennell obtained funding from the University of Illinois' Research Board in 2010 to conduct an aerial, "bare earth," and digital elevation model LiDAR survey (an acronym for "Light Detection and Ranging") of the New Philadelphia town site and for data processing of the results. Thanks go to MJ Harden Associates and GIS analyst Robert Marcom for their excellent work in collecting these data sets and processing them. LiDAR technology transmits a stream of high-resolution laser light to the ground surface and records the differential time with which each pulse is reflected back to a receiving device. This high-resolution survey method records a three-dimensional elevation map of the "micro-topography" of the ground surface, accurate to mere centimeters of spatial resolution. Importantly, the stream of laser pulses penetrate beneath any vegetation coverage to measure the underlying undulations of the ground surface, producing a high-resolution, bare earth, micro-topographic map of features impacting the ground surface contours. The aerial survey was conducted earlier this year, analyst Robert Marcom has provided us with high resolution maps depicting the aerial LiDAR survey data, and our field school team will be investigating locations on the ground that are indentified as potential cultural landscape features based on the aerial survey and other data sets.
Many thanks to Janet Davies and Hosea Sanders for their permission to show their remarkable documentary, entitled "Rediscovering a Black Pioneer's Dream," at the 2010 annual conference of the Society for Historical Archaeology. John Michael Vlach also delivered a keynote speech at the annual forum of the African Diaspora Archaeology Network at that conference. Vlach's presentation, attended by hundreds of researchers, included discussions of New Philadelphia and the McWorter family's involvement in aiding escaping persons fleeing bondage in the early 1800s.
"Windows from the Present to the Past: Africa and the African Diaspora" -- The Department of Sociology and Anthropology at Howard University convened a 2010 Departmental Conference in celebration of Black History Month. This conference included a talk by Anna Agbe-Davies entitled "Community Service: Towards a Truly Inclusive Archaeology," and another talk by Paul Shackel and Megan Bailey entitled "New Philadelphia: Connecting Descendant and Local Communities in the Present and the Past."
A specially edited thematic issue of the Historical Archaeology journal (the peer-reviewed, flagship publication of the Society for Historical Archaeology) was published in early 2010 with the title of "New Philadelphia: Racism, Community, and the Illinois Frontier." This collection of articles was edited by Paul Shackel, Chris Fennell, and Terry Martin, and includes studies and commentaries by Anna Agbe-Davies, Paul Shackel, Joy Beasley, Tom Gwaltney, Michael Hargrave, Claire Martin, Terry Martin, Carrie Christman, Emily Helton, Charlotte King, Chris Fennell, and Abdul Alkalimat.
The September 2009 African Diaspora Archaeology Newsletter includes and article entitled "Religion, Social Networks, and Temperance in New Philadelphia, Illinois," by Annelise Morris. Ms. Morris, now a graduate student in African diaspora archaeology at the university of California, Berkeley, wrote this analysis as her senior honors thesis at the Univeristy of Illinois, with nationally renowned scholars Vernon Burton (Dept. of History) and Abdul Alkalimat (Dept. of African-American Studies) serving as readers on her thesis, and an award of highest honors for her excellent work. This study significantly enhances our understanding of the social, racial, and religious dynamics of this remarkable community in the nineteenth century Midwestern frontier. Ms. Morris also presented these research findings in a speaker series in the Summer of 2009, which was convened with grant support from the Illinois Humanities Council and National Endowment for the Humanities, and she published a related article in Illinois Antiquity (co-authored with George Calfas and Kathryn Fay). She will participate again in our 2011 speakers series.
We hosted a speaker series in the summer of 2009 entitled Community Engagement with Lincoln's Legacies. Please see the online series program for details. The intersection of the McWorter and Lincoln legacies was a focus of events last year as well. In commemoration of African-American History Month, members of the McWorter family, other descendant family members, and members of the local community, gathered at the Lincoln Presidential Library on February 28, 2008, to present the Library with a bronze bust of Frank McWorter, sculpted by Shirley McWorter Moss, and a bound, eleven-volume set of archival papers and archaeology reports. Shirley McWorter Moss, Sandra McWorter, Allen Kirkpatrick, Kathryn Harris, Janet Davies, Anna Agbe-Davies, Terry Martin, and Chris Fennell, among others, spoke at the gathering.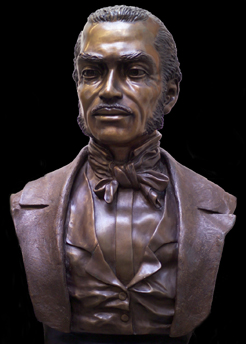 Frank McWorter, founder of New Philadelphia, Illinois. Sculpture by Shirley McWorter Moss on display at the Lincoln Presidential Library, Springfield (Photo courtesy of Sandra McWorter and Lincoln Pres. Library).
Continuing work on New Philadelphia during 2009 included more ground testing of anomalies identified in the 2008 aerial thermal survey of the town site under our grant from the National Center for Preservation Technologies and Training, and continued digitization work under our grant from the Community Informatics Initiative. Our sincere appreciation to both organizations for their support.
Other projects in 2008 included continuing work towards nominating the New Philadelphia town site for National Historic Landmark (NHL) status, an effort headed up by Charlotte King and Paul Shackel, Director for the Center of Heritage Studies at the University of Maryland. While over 80,000 properties in the United States have been listed on the National Register of Historic Places, fewer than 2,500 have received this higher distinction as an NHL. Nomination of the New Philadelphia town site as an NHL with significant archaeological resources was approved on October 29, 2008 by the National Park System Landmarks Committee and on December 3, 2008 by the National Park System Advisory Board.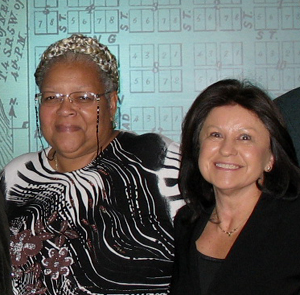 Patricia McWorter (left) and Charlotte King (right) at the National Historic Landmarks Committee hearing in Washington, D.C. (Photo courtesy of Paul Shackel).
Patricia McWorter presented an eloquent and moving statement on behalf of the McWorter family at that hearing on the powerful legacies of New Philadelphia and Frank McWorter. This nomination received official support from U.S. Senators Barack Obama and Richard Durbin; U.S. Representatives Ray LaHood and John Shimkus; Illinois Senators Deanna Demuzio, Emil Jones, Jr., and John Sullivan; and Illinois Representative Jil Tracy, among others. The nomination received final approval by the Secretary of the Interior on January 16, 2009, and the New Philadelphia town site is now recognized as a National Historic Landmark.

PBS's new program "Time Team America" filmed an episode at the New Philadelphia town site in the summer of 2008. A team of geophysicists and archaeologists set themselves the challenge of answering a specific research question in three working days at the site. They searched for the remains of the African-American schoolhouse, following up on documentary and oral history leads indicating it may have been located on Block 8. The show will air on July 22, 2009. There's a nice article on the Time Team program, which mentions the New Philadelphia episode, in the May 31, 2009 issue of the New York Times. In addition, the July 2009 issue of Archaeology Magazine, published by the Archaeological Institute of America, includes an article on Time Team America's 2009 episodes, with a photograph of the Time Team archaeologists at the town site. I believe the New Philadelphia episode particularly attests to this program's scientific credentials -- in science sometimes data prove elusive.
We continue to work on new studies of particular facets of New Philadelphia's history. Ms. Annelise Morris participated as an undergraduate in our NSF-REU field school at New Philadelphia in the summer of 2008. The following academic year, she completed a senior honors thesis and graduated from the University of Illinois with highest honors. Her thesis is entitled "Religion, Social Networks, and Temperance in New Philadelphia, Illinois," and includes both excellent analysis and an extensive appendix of transcriptions of original source documents, including church records and newspaper archives. Profs. Abdul Alkalimat and Vernon Burton served on her thesis committee. An edited version of her study was published in the September 2009 issue of the African Diaspora Archaeology Newsletter. Annelise is now a graduate student at the University of California at Berkeley, where she is working in the archaeology program with Prof. Laurie Wilkie.
Graduate students Kathryn Fay, George Calfas, and Annelise Morris, along with Chris Fennell, worked at the New Philadelphia town site in July, 2009. We used a large soil core sampler, which has a two-inch diameter and can obtain core samples up to six feet in depth using a thirty-pound slide-hammer assembly. We also used smaller-scale soil core samplers with one-inch diameters that obtain samples up to three feet in depth. These soil core surveys will be employed to continue testing a series of anomalies identified by Bryan Haley (University of Mississippi) and Tommy Hailey (Northwestern State University in Louisiana) in a high-resolution aerial Thermal Infrared (TIR) survey of the town site that they conducted in 2008.
Our NSF-REU field school, co-directed by Anna Agbe-Davies (DePaul University), Terry Martin (Illinois State Museum), and Chris Fennell (University of Illinois), resumes in the summer of 2010. In the summer of 2009, Anna ran a fascinating study and field school in the Bronzeville neighborhood of Chicago. Charlotte King has also authored an excellent lesson plan based on the history of New Philadelphia as part of the National Park Service's Teaching with Historic Places program. Graduate students at the University of Illinois, Urbana-Champaign are working to enhance our mapping and landscape studies of the town site and surrounding area, and to expand our analysis of archival data from nineteenth century newspapers published in the region.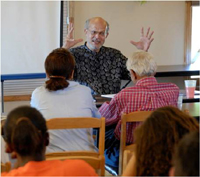 In 2008, we received funding from the National Science Foundation's Research Experiences for Undergraduates program for another three years of field school research at New Philadelphia, which started in the summer of 2008. In addition to the ten-week field school, running from May 27 through August 1, 2008, we convened a series of public speakers and audience discussions on the subjects of African-American Heritage in the Midwest, including talks by David Gradwohl, Paul Shackel, Abdul Alkalimat (Gerald McWorter) (shown in the photo to the left), Timothy Baumann, Paul Mullins, Flordeliz Bugarin, and Kamau Kemayo. For schedule information and abstracts of their talks, please see the online program for these events. This speaker program was made possible in part by a grant from the Illinois Humanities Council, the National Endowment for the Humanities, and the Illinois General Assembly. A listing is provided below of some of the news media articles on the National Historic Landmark designation, our 2008 field season, and earlier events and developments concerning this project. We have also posted our 2008 survey and excavation reports on this web site for your review and comments. Additional information and data images are available on our project's Facebook and Flickr sites. On the Flickr web site, you can mark-up and comment upon aerial photos, maps, geophysical data maps, and other images. Here's a quick list of news in archaeology from the Twitter and Tweetizen services:
In 2007-2008, we planned for and conducted an aerial thermal survey of the town site. Federal and state census records, tax records, and deeds provide extensive data about the residents of New Philadelphia. However, such historical documents do not provide a specific spatial map of household and merchant locations. Archaeological survey and excavations can map those locations in much greater detail to provide a richer data set for the social history of this community. The 1836 plat provides a plan for the town, including a grid pattern of streets, alleys, and lots, but the question remains as to whether this design was followed as the town developed. Indeed, newspaper reports during the town's existence indicated that town residents did not adhere to planned property lines in their building activities. Archaeological excavations at the town site have also uncovered early structures for which documentary evidence from deeds and other historical records provided no indications.
A number of archaeological survey and prospection methods have been employed previously at the New Philadelphia town site by collaborating researchers. These survey methods have included a pedestrian survey and surface collection of a large portion of the town site. Dr. Michael Hargrave has conducted approximately 6.5 acres of surface-based geophysical surveys at the town site, utilizing electric resistivity and magnetic gradient sensors. Due to the large size of New Philadelphia as platted (42 acres), it is not practical to attempt surface-based geophysical surveys of the entire town site.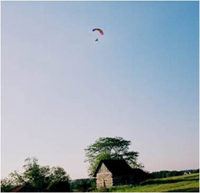 In 2007, the National Park Service and National Center for Preservation Technology and Training awarded a grant to test the usefulness of low-altitude aerial surveys employing high resolution thermal imaging at New Philadelphia. We planned to employ this methodology at the town site for a new and specific purpose: determining whether this technology can detect the grid pattern of an historic town site buried beneath 1-2 feet of agricultural fields and prairie grasses. Prof. Tommy Hailey of Northwestern State University in Louisiana and Bryan Haley of the University of Mississippi have pioneered the techniques used in combination in this survey approach, collecting survey data utilizing a powered parachute ultralight aircraft and a high resolution thermal camera.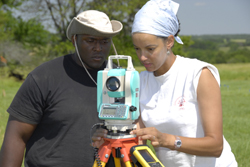 The initial data collection through this aerial survey was completed successfully at the town site in the week of May 12, 2008. The data sets from this aerial thermal survey are being geo-referenced and integrated using spatial mapping programs, such as Geographic Information Systems (GIS) software, and the creation of mosaic imaging representations. The survey results can then be examined in relation to a geo-referenced version of the 1836 town plan and other comparative data from archaeological investigations. The results of this aerial survey project will also be published in articles to be submitted to peer-reviewed journals. If successful, this technique will provide an extremely useful resource for applications on numerous similar sites throughout the nation. Portions of the resulting data were ground-tested at the site during the excavations phase of the ten-week field school in June, 2008. Preliminary results from the aerial survey have also identified thermal anomalies that appear to correspond with known locations of subsurface stone foundation remains. Researchers plan to further test thermal anomalies identified in this aerial survey through soil core sampling probes, targeted ground-based geophysical surveys, and excavations in future field seasons.
The overall plan for the research components of our ten-week field school in the summer of 2008 included new ground-based geophysical surveys in the first week, followed by four weeks of excavations and surveys at the town site, and a subsequent five weeks of laboratory research and analysis of the material, faunal, and floral remains at the Illinois State Museum's Research and Collections Center in Springfield. In April and May researchers had corresponded with Michael Hargrave to identify the areas of the town site on which he would conduct new surveys, using electric resistance and magnetic gradient detection methods, in the week of May 27. The Spring of 2008 was marked by higher than normal rainfalls, which provided very good conditions for conducting such geophysical surveys. In past years at New Philadelphia, low moisture content in the ground surface made the process of obtaining and interpreting such geophysical data very challenging. Among other results obtained in the week of May 27, Hargrave obtained vivid data in the area of Block 3, Lot 4, on the north edge of the town site, which was later explored by two of our excavation teams.
Our areas of work in the 2008 field school included:

Systematic soil core sampling (with a one-inch diameter sampler) at the locations of new anomalies identified by geophysical surveys in the week of May 27, and commenced excavations where warranted.


Expanded survey and excavations in the area of Block 3, Lot 4, owned for a period of time by Alexander Clark and located near a lime slacking pit uncovered as Feature 2 in 2004 excavations.


Continued excavations in the area of Block 7, Lot 1, for which a newly discovered tax record from 1845 listed a higher value assessment that might indicate the presence of building at a time when Frank McWorter owned the parcel. Partial excavations at this location in 2004 uncovered Feature 3, the foundation of an 1870s house site, which may have overlain the remains of an earlier occupation.


Survey and excavations in the southern half of Block 8, Lots 1 and 2, for which a number of deed references indicate a school house for African American families may have been located in the 1850s and 1860s.


Excavations on previously identified geophysical anomalies in the area of King Street north of Block 8, and anomalies in the space platted for Walnut Alley on the northern edge of Block 8, Lots 5 and 6.


Use of a hammer-driven, soil core sampler (with two-inch diameter and up to six feet in sample length) to explore the stratigraphic profiles of earthen terraces and swales created in the early 1990s to control erosion on portions of the west side of the town site.

These research efforts were undertaken by the NSF-REU field school participants and by a collaborating archaeology team associated with the "Time Team America" documentary program. A report of the results of this 2008 field season will be published online in the near future.
Lastly, May and June of 2008 were also months of high rainfall in the Midwest. The Mississippi River rose to record-breaking levels and weakening levies threatened to give way and flood small communities ten miles to the west of the New Philadelphia town site. Our NSF field school participants helped fill sand bags to reinforce levies protecting the small town of Hull, Illinois. We also spent long hours packing up the Hull Museum and Library and loading their collections and exhibits onto a tractor-trailer for safe-keeping from the threatening flood waters. Our NSF field school team was very pleased to have the opportunity for such a tangible contribution in assisting with immediate community needs.
---
Some overall observations can be made concerning the results of our archaeological and historical research in 2004-2006 (Shackel et al. 2006). Archaeological work through the end of the 2006 field season uncovered over 65,000 artifacts, faunal and floral remains, and the locations of twelve house and business structures, including a grocery and a blacksmith operation. There appears to have been no racial segregation of property locations within the town. The locations of residences and businesses of African Americans and European Americans were spatially interspersed in the town during the nineteenth century. We uncovered no archaeological evidence of violent destruction of properties within the town, even though the community was located within a region sharply impacted by racial strife. Most structures and occupation sites appear to have been concentrated in the landscape covered by the north-central portion of the town plan. Archaeology revealed early house sites not indicated in historic-period documents, such as deeds, tax ledgers, and census records. Community members in the nineteenth century likely utilized a mix of architectural styles and building methods, including frame, log, wood post, stone, and brick construction. Residents enjoyed access to local, regional, and international commodities from the outset of settlement of the town. Ceramic housewares were similar in style, expense levels, and types of assemblages across house sites of both African Americans and European Americans. There may have been some variations in dietary and culinary practices based on the region of origin or ethnic background of particular families who moved to New Philadelphia (Shackel et al. 2006).
Our 2006 summer field school in archaeology at New Philadelphia was sponsored by the University of Maryland, University of Illinois, Illinois State Museum, University of Central Florida, and the New Philadelphia Association, with support from the National Science Foundation's program of Research Experiences for Undergraduates. Ten undergraduate students and three graduate students from around the country participated in the summer fieldschool. Our investigations focused on residential and merchants sites in three blocks of the town site, including Blocks 3, 4, and 8, and the area of an early blacksmith shop. A special speaker series held during the field school included talks by James Davis, Floyd Mansberger, Timothy Baumann, and Kamau Kemayo. Abdul Alkalimat also participated in discussions with the field school students concerning issues of racism in American history and society.
On June 17, 2006, a "Day of Discovery" was convened at the town site, organized by the McWorter family, the New Philadelphia Association, and the Illinois State Museum. Many descendants of the families who once resided at New Philadelphia and the surrounding region attended this event, shared genealogical and historical research, and toured the archaeological excavations. In our continuing efforts focusing on archival research, we also published an expanded set of Hadley Township census data on the University of Maryland's internet site for the New Philadelphia project.
We enjoyed terrific seasons of excavations during 2004-2006 at the New Philadelphia site in western Illinois. The image below shows an outline of the 1836 town plat of New Philadelphia overlain on a 1998 aerial photograph of the landscape on which the town was located. Under the direction of Michael Hargrave, field school students conducted geophysical surveys using electric resistivity and electromagnetic sensors, which indicated likely locations for foundation remains or other artifact concentrations below the surface. The areas of town lots in which we conducted geophysical surveys during 2004-2006 are marked with blue in the image below. We also conducted excavations, completing numerous five-foot-square units, the general locations of which are marked in red below. Our excavations uncovered several intact archaeological features, including the remains of foundations and storage spaces.

Map of excavation and geophyscial survey locations.
Michelle Huttes, working in collaboration with others on this project, prepared and submitted an application in the autumn of 2004 to have the entire town site nominated to the National Register of Historic Places. That application was greatly strengthened by the archaeological data we obtained up through the end of excavations in 2004. This nomination received official support from U.S. Senator Richard Durbin and U.S. Senator Barak Obama, among others. On June 2, 2005, the Illinois Historic Sites Advisory Council approved and forwarded to the National Park Service the nomination of the New Philadelphia site to the National Register. The National Park Service's review panel later approved the nomination, and the town site of New Philadelphia was added to the National Register of Historic Places as a nationally significant archaeological resource on August 11, 2005.
Excavations in the summer of 2005 concentrated on areas in Blocks 3, 4, 8, 9, and 13, uncovering foundations of additional buildings and high quantities of artifacts. Our excavators during 2005 included 10 undergraduates participating in the NSF-REU field school, 14 undergraduates participating in a field school hosted by the University of Illinois, Urbana-Champaign, 5 graduate students, and 3 archaeology instructors. Additional geophysical surveys were conducted by Mike Hargrave, and a low-altitude aerial survey was conducted by Tommy Hailey of Northwestern State University in Louisiana.
The 2005 summer field season concluded with a very exciting event. A reunion of more than 50 members of the McWorter Family was held at New Philadelphia during the last weekend in June, 2005. The New Philadelphia Association hosted a barbeque in honor of the event. The family members toured the excavation sites, examined many of the types of artifacts uncovered to date, and asked many questions of the archaeologists and field school students who were onsite to describe the excavation units open for viewing. The family members also visited the nearby cemetery that includes the grave of Free Frank McWorter. A special speaker series held during the field school included talks by Art Wilson, Anna Agbe-Davies, Vibert White, and Abdul Alkalimat.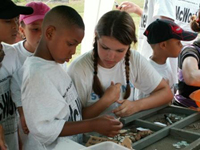 McWorter family members at New Philadelphia, 2005 (Photo by C. Valvano).
In documentary research, we have begun expanding a database of the census records to provide records of residents both within the town area and in the surrounding township region to explore potential, broader social patterns. We also uncovered additional documentary sources. To our knowledge, 19th-century tax records for Hadley Township, Illinois (which include households in New Philadelphia) have not been examined previously, and we have now compiled and published the text of these on our website. In addition, we are investigating the original corporate records of the Hannibal & Naples Railroad to explore possible reasons for the railroad having bypassed the town in the late 1860s. We are also conducting a review of newspapers from the relevant region and time period to find articles, notices or advertisements concerning various topics related to the town's history.
We have also undertaken to record oral history interviews. Our oral history project provides evidence about what people today see as important community stories. We want to examine how the history and stories of New Philadelphia have been created over time. In addition, our recording of oral history interviews provides important stories about racialization and how the town existed as a multiracial community into the 1920s.
We are designing this collaborative archaeology, history, and oral history project to be as democratic as possible. We are endeavoring to be transparent in the way we are collecting and displaying our data to the various individuals and communities interested in this subject by placing everything we find online. For example, information and transcriptions concerning the town's land ownership records, census data, and tax records are now available and fully searchable on our web sites. Our goal is to make sure we post information as soon as it becomes available for others to see, use, interpret and critique.
The New Philadelphia site was featured in the Illinois Archaeology Awareness Program in 2005, with artifacts from New Philadelphia a focus of that program's promotional poster, entitled "Archaeology and African-American Heritage: Places on the Pathways of Freedom." As part of this Awareness program, copies of this poster were distributed to educational and heritage organizations throughout the State (click on the poster image below to learn more.)
---
View Archaeology Project Reports
---
Set out below is a sampling of news articles concerning New Philadelphia.
---

Modern way of looking at historic New Philadelphia available at app store
Article available online at: Herald-Whig

November 19, 2015

By Deborah Gertz Husar


---

Why National Science Foundation Funding and Archaeology Matter
Article available online at: Huffington Post

November 6, 2013

By Paul Mullins


---

Learning More About New Philadelphia
Article by American Archaeology Magazine

Fall 2010

By Anna Agbe-Davies


---

Looking Past the Plantation: Focus Broadens
to Include Greater Understanding of Africa
Article available online at: Harvard Gazette

September 21, 2010

By Alvin Powell


---

Preserving New Philadelphia
Article by American Archaeology Magazine

Fall 2009

By Iris Picat


---

New Philadelphia on Prairie Fire Program
Filmed and produced by WILL TV's Prairie Fire Program

March 2009

Produced by Steve Drake


---

A New Life for New Philadelphia
Article by American Archaeology Magazine

Fall 2008

By Malcolm Gay


---

Buried Treasure: Dig Uncovers Town that Welcomed Blacks and Whites
Article by Illinois Alumni Magazine

September 2008

By Jan Dennis


---

A Land of Racial Harmony? Town Descendants Want the Truth Unearthed
Article by the Los Angeles Times

July 14, 2006

By P. J. Huffstutter


---

Integrating the Frontier: A Town Founded by a Former Slave Resurfaces in Illinois
Article abstract available online at: Archaeology Magazine

September/October 2005 Edition

By Jennifer Pinkowski


---

Highway Named for McWorter
State Journal Register (Springfield, Illinois)

February 25, 2005

By Brian Mackey
State Capitol Bureau



In 1836, "Free" Frank McWorter became the first black person to incorporate a town in America. Though New Philadelphia no longer exists, Gov. Rod Blagojevich announced Thursday that a section of Interstate 72 in Pike County henceforth will be known as "Frank McWorter Highway."

The site of New Philadelphia is about six miles east of Barry and a short distance north of I-72. Frank McWorter Highway will stretch for about 35 miles between Griggsville and the Mississippi River.

Blagojevich made the announcement at the Abraham Lincoln Presidential Library before a group of government officials, community members and 25 second-, third- and fourth-graders from St. Patrick's Catholic School.

According to information published by New Philadelphia scholar Christopher Fennell, an assistant professor of anthropology at the University of Illinois at Urbana-Champaign, McWorter was born into slavery in South Carolina in 1777. When he was 18, hi! s owners moved him to Kentucky. They thought enough of McWorter that, when the family moved again, this time to Tennessee, they left him behind to run the farm.

In his free time, McWorter started a saltpeter mining operation and saved enough money to buy the freedom of his wife in 1817 and himself in 1819, at a cost of $800 each. Over time, he would buy 14 more members of his family into freedom, spending about $14,000. McWorter also is thought to have been part of the Underground Railroad, a secret network of safe havens that helped countless slaves to freedom in the northern United States and Canada.

McWorter settled in Pike County in 1830 and registered the town of New Philadelphia in 1836. State census records show the town reached its peak population in 1865, with 30 households and 170 people, Fennell said. But when railroads were built in 1869, people left New Philadelphia in droves. Over time, the town no longer existed as such, and county officials rev! oked its municipal status in 1885.

On hand for Thursday's dedication ceremony was Sandra McWorter, Frank's great-great-granddaughter. She said the youngest members of the family are eighth-generation McWorters, some of whom still live in Illinois.

Sandra McWorter went to some lengths to get to the event. On Wednesday, she drove from Toledo, Ohio, to Chicago, where she boarded a Greyhound bus to Springfield at 6 a.m. Thursday. Once in town, her cabdriver dropped her off at the municipal public library - the wrong library - also named for Abraham Lincoln.

Her trip home got off to a better start. The governor, who had flown to Springfield from his home in Chicago on Wednesday, gave her a lift back to that city on his state-owned aircraft.

For more information about Free Frank McWorter and a link to Fennell's New Philadelphia Web site, visit www.mcworter.net.

(Copyright 2005, The State Journal-Register, a division of Copley Press, Inc. All rights reserved.)



---

Family Involvement Gives Life to History in New Philadelphia
Quincy Herald-Whig

October 4, 2004

By Deborah Gertz Husar
Herald-Whig Staff Writer
Contact at dhusar@whig.com or (217) 221-3379



BARRY, Ill. -- Gerald McWorter and Allen Kirkpatrick know looking into their family's past will inspire more interest in that history in the future.

Their family's history -- the legacy of Frank McWorter, a former slave who incorporated the racially integrated community of New Philadelphia near Barry in 1836 -- carries a broad appeal, not just to the cousins and their relatives scattered across the country but to the public.

"We are the children of the last generation that was born and grew up here in Pike County," said McWorter, who grew up in Chicago and now teaches at the University of Toledo in Ohio. "We grew up hearing the stories about Pike County. Many of us have been to Pike County before, some when we were very small."

Eight family members from four states returned to those roots Saturday, turning out for the Barry Apple Festival. It was a chance to visit the New Philadelphia site and to meet with members of the association committed to researching, preserving and interpreting the historic site.

The visit should open the door to more involvement in the project by descendants of the man known as Free Frank.

"This is a landmark thing," New Philadelphia Association President Phil Bradshaw said. "Gerald McWorter said it's important to look at the history to make the future better."

The McWorter descendants and NPA members shared a meal and met for over an hour to discuss activities taking place at the site and the future of the cemetery on the site.

"We have covered a tremendous amount of ground," one family member said.

"I can be a conduit between the family and the New Philadelphia Association," said Kirkpatrick, who lives in South Holland. "I can come down periodically."

The group also discussed preliminary plans to gather again during the second phase of archaeological work slated to begin in May and at next year's apple festival.

A $226,500 National Science Foundation grant funds bringing nine students to the New Philadelphia sites for three summers to excavate property sites. The summer field schools give students five weeks at the site northeast of Barry along the Baylis blacktop doing supervised excavation work, then working at the Illinois State Museum in Springfield to catalogue their finds from the first community incorporated by an African-American in the United States.

Work done this summer shed light on what the people of New Philadelphia ate, possessions in their homes and where they hailed from based on regional preferences.

Paul Shackel, head of the Center for Heritage Resources at the University of Maryland, oversaw the field school and met with the association and family members.

"This is a very good day. I'm glad to be part of it," he said.

"This adds a tremendous amount of insight to the New Philadelphia Association," board member Pat Likes said. "It will enhance the project."

The archaeological and oral history work ties into the vision of Kirpatrick's late mother Thelma, who worked to preserve her family's history. She shared stories about her father Arthur, the grandfather of the cousins and the grandson of Free Frank.

"New Philadelphia is an important part of that," McWorter said.

For the cousins, just visiting the New Philadelphia site provided a highlight.

"I'm from the city. It's a comforting thing to be in a rural environment," McWorter said.



---

Archaeologists Unearthing Life of Early Integrated Town in Illinois

Andrea Lynn, Humanities Editor, U. Illinois

July 1, 2004



CHAMPAIGN, Ill. — Independence Day has taken on new layers of meaning for a team of archaeologists who've been digging in western Illinois this summer.

In fact, nearly everything about the excavation in the rolling farmland near Barry speaks volumes about freedom and liberty, nearly everything adds a chapter to the American Dream.

Sponsored by a three-year grant from the National Science Foundation's Research Experiences for Undergraduates Program and led by staff from one museum and two universities, including the University of Illinois at Urbana-Champaign, the dig in the pastureland formerly known as New Philadelphia is uncovering "the contours of the daily life of the first town incorporated by an African American before the Civil War."

So says project co-director Christopher Fennell, an archaeologist who specializes in 18th and 19th century archaeology and African- American history. His co-directors are Paul Shackel, an anthropologist at the University of Maryland, and Terrance Martin, an archaeologist and associate curator at the Illinois State Museum. Members of a local non-profit association and other scholars with whom those community members had first begun working recruited the leaders for their research expertise.

"As archaeologists, we're interested in the lifeways and social history of the dozens of families who lived in the town, but about whom very little is known," said Fennell, a U. of I. research associate who next month will join Illinois' anthropology department as a professor of archaeology.

New Philadelphia's story is not entirely unknown. Lying in fertile fields between the Mississippi and the Illinois rivers, the town was founded in 1836 by Frank McWorter (1777-1854), a former slave from Kentucky who came to be known as "Free Frank."

Through remarkable entrepreneurial skills, McWorter not only raised the funds to buy his wife, himself and 16 members of his family out of slavery, but also trekked from Kentucky to Illinois, bought 42 acres of land, established New Philadelphia, and then turned it into a thriving prairie community by selling parcels of his land to other enterprising individuals.

It was no small feat that the integrated community succeeded. It was, after all, "one of the toughest time periods in American history and in a landscape that was shaped by racial strife," Fennell said.

"People will say Illinois was a free state, but there were all sorts of ways that folks practiced slavery in Illinois, and there was a tremendous amount of social tension over being caught between the winds of Missouri and the neighboring slave states," he said.

Still, New Philadelphia was "a fascinating and unique circumstance," Fennell said, "so we want to discover how it unfolded over time. We will spend years doing research, trying to unpack how this little integrated agricultural community worked, how those families got along and interacted with each other."

Fennell said it is very likely that the townsfolk, including the McWorters, were involved in the Underground Railroad. Hannibal, Mo., was just 20 miles to the east "and there were a number of major abolitionists and grassroots escape routes flowing though that area at the time."

New Philadelphia thrived as an agricultural market center for 50 years, but its life-blood began draining out after the Hannibal & Naples Railroad bypassed it in the 1870s. By 1920, only a few families remained, the others having moved to prosperous towns on the railroad lines. Eventually the town turned, like much of the state, into agricultural land.

But during its good times, the town hummed harmoniously along with families of all kinds: African Americans, "who had their own poignant history," recent immigrants from Ireland, England and Canada, European-Americans, and possibly Native Americans.

Much of Free Frank's fascinating personal story was uncovered by former U. of I. history professor Juliet Walker, herself the great great granddaughter of the man.

According to Fennell, the team has used "a remarkable array of research techniques" to uncover the extinct town and its people. "Juliet Walker's fabulous study gave us leads on how to approach the town history," Fennell said.

In the first phase of the project, dozens of volunteers walked a line over 26 acres of the town site, flagging every artifact on the ground, culling some 7,000 items for their effort.

In the second survey phase, geophysicist Michael Hargrave from the U. S. Army Corps of Engineers in Champaign conducted a geophysics survey, using electric current and electromagnetic monitors to determine features below the surface of the ground, including potential stonewalls and other foundation remains.

Fennell attributes much of the field school's early success to the "cutting-edge approach to layering survey methods before we even chose where to do the in-ground excavation."

The actual digging began May 25. The research team of professionals, graduate and undergraduate students spent the first five weeks of the program in the field, excavating for artifacts and the foundations of houses and other buildings. Now they are working at the Illinois State Museum's Research and Collection Center in Springfield cataloging and analyzing their finds, including artifacts, soil and archaeobiological materials.

Findings "consistent with the time period of New Philadelphia," Fennell said, include broken dinnerware, iron nails and hardware, miniature toys, clay marbles, and all sorts of "personal wares," including buttons, fragments of bone combs and toothbrushes, comprising thousands of additional items for analysis.

For Fennell, the most exciting finds to date have been the "intact foundation remains," exciting in view of one of the team's priorities: to have the entire town placed on the National Register of Historic Places. For that to happen, certain things, for example, intact archaeological and architectural features, should be present.

"So rather than just digging a site and collecting all the artifacts that may have been part of a trash dump, for example, we're specifically interested in finding the remains of the foundations, the footprints of the homes and buildings that were used there.

"We've had tremendous success already this summer in that we have five or six such features already uncovered, and so we'll be applying this coming fall to get the entire town on the National Register of Historic Places."

It is rare for an entire town to be placed on this register, Fennell noted.

However, there are hundreds of people pulling for that to happen.

"Both the local community and the descendant community – folks who are descended from the original families but who now live elsewhere – have been fairly vocal thus far in saying they would like to see an interpretive visitors center built at or near the site, where this incredible story of New Philadelphia will be told, and where you can see some of the archaeological remains and the landscape of the town."

The surrounding communities of Pike County have, in fact, been "just incredibly supportive," Fennell said.

"This was the most well-appointed archaeological dig I've ever been on. Through their own fundraising and logistical support, they helped provide us with a large tent and with a trailer that was air- conditioned and had running water. … In addition, a local hunting lodge provided room and board for the students at significantly discounted rates.

"We kept trying to tell the students that this wasn't the way the average archaeological project worked," Fennell said.

The students are a story in themselves, Fennell said: "a remarkably integrated group in terms of their own ethnic and cultural heritage who are studying the history of a remarkably integrated town."

"A primary consideration was to try to attract students who are of an ethnic or cultural heritage that is underrepresented in these kinds of research projects," Fennell said. "Another consideration was to provide such hands-on research experience to students enrolled at smaller liberal arts colleges who would not normally have access to these kinds of scientific research-methods programs during the summer."



---

Supporters Want Lost Town Founded by Black Man Named Historic Site

Saturday June 26, 2004

By JAN DENNIS
Associated Press Writer



In a remote pasture in western Illinois, researchers have been digging up buttons, porcelain and other artifacts from a former frontier village launched by a freed slave.

It's the earliest known town incorporated by a black man in the country, and researchers want it named a national historic site. Crews will wrap up their first archaeological dig this weekend in the field, located about 30 miles southeast of Quincy.

Historians say Frank McWorter launched the integrated town of New Philadelphia in 1836, a quarter century before the Civil War.

"'Free Frank' is every bit as much an American hero as Frederick Douglass or Martin Luther King," said Vibert White, a history professor and project consultant.

Researchers have been combing the plowed field for nearly two years. They uncovered thousands of artifacts, including nails, buttons and pieces of broken glass, ceramics and brick, said Paul Shackel, the project's lead archaeologist.

They started digging deeper last month, using a $200,000 National Science Foundation grant. The grant also will pay for digs the next two summers and a laboratory analysis of the artifacts, said Shackel, director of the University of Maryland's Center for Heritage Resource Studies.

So far, the excavation has turned up traces of about a third of New Philadelphia's 30 or so residences, as well as trash pits, which could provide clues to dietary habits and lifestyles, Shackel said.

He said buttons and thimbles could offer a glimpse of household activities, while fragments of porcelain dolls and dishes could show whether the village traded with other cities or was shut off because of its roots.

"All of this will eventually tell the story of New Philadelphia how people lived their everyday life. Our goal is to show how an integrated community survived. By the third summer, we should have a real nice view of what this town looked like and how people interacted," Shackel said.

McWorter, whose grave is near the lost town, was a slave for a Kentucky man who allowed him to earn wages in his spare time. He saved, bought a small farm and earned enough money to buy his freedom, as well as his wife's.

He later traded his Kentucky farm for another farm in western Illinois that prospered. That enabled him to buy the freedom of his slave-born children and other relatives. He then bought more land and established New Philadelphia, giving the newly freed slaves a place to buy homes and become independent.

New Philadelphia grew to about 170 people 35 percent black and began to slowly fade away when it was bypassed by the railroad in 1869, Shackel said.

Supporters of the town want it to be placed on the National Register of Historic Places. Ultimately, they want to make it part of the National Park Service, which would require an act of Congress.

Rep. Ray LaHood, a Republican who represents the area, has followed the project and would consider sponsoring the town's addition to the park system, said spokesman Tim Butler.

White, who headed the project until he moved to the University of Central Florida last year, thinks New Philadelphia's legacy could attract 25,000 to 100,000 visitors a year.

"When you think of black people in that era, you think of slavery and hostility. This town was focused on Americanism, trying to create a society free of ill feelings toward any race," White said.

(Copyright 2004 by The Associated Press. All Rights Reserved.)



---

Evidence of First Black Planned Community in Ill.

Date: Friday, June 25, 2004
By: Wayne Dawkins, BlackAmericaWeb.com



Archeologists Friday are to finish digging up a plowed field in Illinois that has evidence of New Philadelphia, Ill., apparently the first planned black town in America.

"Frank McWorter purchased 42 acres," Terrance Martin, curator of anthropology at the Illinois State Museum in Springfield, told BlackAmericaWeb.com. "He drew 60- by 120-foot lots. It's the earliest planned community, planned by an African-American in North America."

That would be 1836.

Martin added: "There are other black towns in Illinois, but they are crossroads settlements, not planned communities."

Paul Shackel, director of the Center for Heritage Resource Studies at the University of Maryland, said, "McWorter's a legend out here [in Illinois]. He's in the atlases and county history."

McWorter, said Martin, was born a slave in South Carolina. His master moved to Kentucky. There, the master allowed McWhorter to save money he earned at a salt peeter operation. As a result, McWorter purchased his freedom and his wife's freedom for $800 each, and also freed at least 16 descendants.

McWorter came to Illinois in 1831, purchased land and established a farming operation, believed to be corn and wheat, said Shackel. New Philadelphia was incorporated in 1836.

While known in rural Illinois, the former slave turned town builder is virtually unknown to the rest of us. Pike County is in west central Illinois, 70 miles west of state capital Springfield, and 25 miles east of Hannibal, Mo., birthplace of Mark Twain.

Shackel, who is directing the dig, said he became aware of New Philadelphia two years ago when he was invited by an Afro-American studies professor at the University of Illinois at Springfield to learn more about the early 19th century town.

"I suggested we do an archeological survey," said Shackel. "We partnered with the Illinois State Museum, got volunteers, and we walked the plowed field where we thought the town was located.

"We found people's garbage. That's how we determined where the people lived."

Shackel said New Philadelphia lasted nearly 100 years: After incorporation in 1836, the first houses were built in 1840. By 1855, there were 58 people. By 1870, there were 170 people in 31 households.

Then the railroad came to Pike County in the 1870s. The train avoided the town.

Martin said local lore is the rail line was routed north of New Philadelphia to avoid the black town, but the curator said it was probable that terrain issues, not race, affected where the tracks were laid.

Nevertheless, because the railroad missed the farm community, "We believe most people left," said Shackel. The town was unincorporated in 1885.

By 1900, seven to eight families remained. Gradually, by the 1950s, all signs of the town disappeared. It was plowed over as if it never existed, said a release from the University of Maryland.

In two years, Shackel and his team have recovered over 10,000 artifacts, including items unexpected in a frontier location, such as porcelain dolls and fine china. This summer the team has unearthed foundations, storage cellars and pits related to the town's early settlement, providing further clues to the settlers' lifestyles, said the University of Maryland.

"What is important about what we've discovered is the artifacts are intact," said Shackel. "We thought the artifacts might be destroyed because of plowing. Our goal is to get the town on the National Register of Historic Places."

"I'm very convinced it can have status like Nicodemus, Kan., which is run by the National Park Service and is one of 380 National Park Service sites."

With summer excavations ending Friday, in July students will process the artifacts at the Illinois State Museum.

Martin said, "Over the years we will work to have temporary exhibits of the artifacts. We might set up in Pike County. We also want to get the artifacts in a climate controlled setting and accessible to other researchers."

Researchers, said Martin, should find this detail interesting: New Philadelphia was integrated. "We're checking genealogies and we are finding links to Cuba, Ireland and New England," he said.

"The more we learn, the more interesting and significant New Philadelphia becomes."