Building on the data obtained in walk-over surveys in 2002 and 2003, we enjoyed terrific summer seasons of excavations during 2004 and 2005 at the New Philadelphia site in western Illinois. The image below shows an outline of the 1836 town plat of New Philadelphia overlain on a 1998 aerial photograph of the landscape on which the town was located. Under the direction of Dr. Michael Hargrave, field school students conducted geophysical surveys using electric resistivity and electromagnetic sensors, which indicated likely locations for foundation remains or other artifact concentrations below the surface. The areas of town lots in which we conducted geophysical surveys during 2004 and 2005 are marked with blue in the image below. We also conducted excavations, completing numerous five-foot-square units, the general locations of which are marked in red below. Our excavations uncovered several intact archaeological features, including the remains of foundations and storage spaces.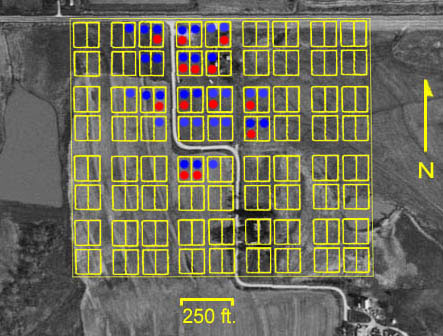 Ms. Michelle Huttes, working in collaboration with others on this project, prepared and submitted an application in the autumn of 2004 to have the entire town site nominated to the National Register of Historic Places. That application was greatly strengthened by the archaeological data we obtained up through the end of excavations in 2004. This nomination received official support from U.S. Senators Richard Durbin and Barack Obama, among others. In June 2005, the Illinois Historic Sites Advisory Council approved and forwarded to the National Park Service the nomination of the New Philadelphia site to the National Register. The National Park Service's review panel later approved the nomination, and the town site of New Philadelphia was added to the National Register of Historic Places as a nationally significant archaeological resource in August 2005.

Projects in 2008 included work towards nominating the New Philadelphia town site for National Historic Landmark (NHL) status, an effort headed up by Charlotte King and Paul Shackel, Director for the Center of Heritage Studies at the University of Maryland. While over 80,000 properties in the United States have been listed on the National Register of Historic Places, fewer than 2,500 have received this higher distinction as an NHL. Nomination of the New Philadelphia town site as an NHL with significant archaeological resources was approved in October 2008 by the National Park System Landmarks Committee, in December 2008 by the National Park System Advisory Board, and finalized by the Secretary of the Interior in January 2009.

Patricia McWorter (left) and Charlotte King (right) at the National Historic Landmarks Committee hearing in Washington, D.C. (Photo courtesy of Paul Shackel).
Patricia McWorter presented an eloquent and moving statement on behalf of the McWorter family at that hearing on the powerful legacies of New Philadelphia and Frank McWorter. This nomination received official support from U.S. Senators Barack Obama and Richard Durbin; U.S. Representatives Ray LaHood and John Shimkus; Illinois Senators Deanna Demuzio, Emil Jones, Jr., and John Sullivan; and Illinois Representatives Jil Tracy and Mary Flowers, among others. Many thanks and congratulations to all involved for commemorating the New Philadelphia town site as a National Historic Landmark.

In 2014, U.S. Senators Durbin and Kirk advanced a bill in the Senate (S. 1328), and Congressman Aaron Schock advanced a matching bill in the House of Representatives (H.R. 930) to have the National Park Service assess the New Philadelphia National Historic Landmark site for inclusion as a unit in the NPS system. President Obama signed this legislation into law on December 19, 2014!
Many thanks to Charlotte King for her tireless work with our representatives to advance this legislative initiative! Listen to Charlotte's related testimony before a House committee online, and read her 2014 article in Illinois Antiquity. The New Philadelphia National Historic Landmark was added to the National Park Service's Network to Freedom of "Underground Railroad" heritage sites in the summer of 2013. Ms. King has also authored an excellent lesson plan based on the history of New Philadelphia as part of the National Park Service's Teaching with Historic Places program.