Introduction to
Cultural Anthropology:
Course Syllabus




Christopher Fennell
Fall 2003



Overview
This course is designed to introduce students to the anthropological study of different cultures, including ways of comparing and contrasting the structures of social relationships and belief systems that operate in different cultural settings. We will explore ways of trying to understand the world views and belief systems of other peoples by studying each of those systems in their particular contexts, and then comparing and contrasting different cultures and the contexts in which they are situated.

This learning process involves a fascinating experience in which our western assumptions are revealed to us and thwarted when we examine various facets of the belief systems and traditions of non-western societies. After we try to understand other cultures on their own terms, we face the question of the degree to which observers can be judgmental about other cultures and life ways. We also question how our understanding of those cultures should shape the perspectives and policies of officials and academics who are members of western governments that seek to influence or change the life ways of people in other regions of the world.


Margaret Mead in Samoa, 1926
Our readings will include two classic studies of non-western belief systems, one located in the South Pacific and one in South America, and the later controversies surrounding those studies and the anthropological interpretations involved. Other readings will examine cultures in other regions of the world, including the Middle East and Africa. Through the assigned texts and articles, we will explore issues of the belief systems, social relationships, economic and environmental contexts, gender roles, and international and intercultural relationships of a number of cultures and the potential biases and varied perspectives of the anthropologists who studied them. On completing the course, each of you should have a broad understanding of both what people have in common and the vast variety of social and cultural institutions, and comprehension of the ways in which cultures interact and change over time.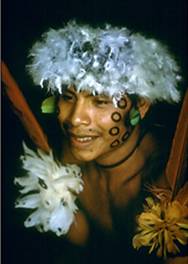 Yanomamo youth
I often make use of web pages and email in teaching such courses. While not required, you will find it of great help to get internet and email access so you can use these resources, which include a list of anthropology resource links.


Required Texts, Films and Related Materials
Joy Hendry, Other People's Worlds: An Introduction to Cultural Anthropology (1999, New York University Press).

Napoleon Chagnon, Yanomamo: The Last Days of Eden (1992, Harcourt).

Margaret Mead, Coming of Age in Samoa (1975, William Morrow & Company).

Lila Abu-Lughod, Writing Women's Worlds: Bedouin Stories (1993, University of California Press).

Additional readings will be placed on reserve, distributed in class, or will be available on the course web page, including recent controversies concerning studies of the Yanomamo people and earlier controversies concerning Margaret Mead's studies of Samoan culture.

North American shaman
I will also show a number of films during the course, including one or more of the following:

The Kawelka: Ongka's Big Moka (Disappearing World Series, Granada Films, 1991), exploring a ceremony among a modern-day Papua New Guinea people in which gifts of pigs, exotic birds, money, and automobiles are given by one group to another to gain social prestige. Note how the Kawelka people have retained their cultural traditions and incorporated European goods and currency into those traditions.

The Witch Hunt (Time/Life Films, 1995), exploring the persecution of persons for alleged acts of witchcraft in European history. Note the differences between the folk religions practiced by the persons whom are persecuted, and the re-definition of their beliefs and practices by those who persecute them.

Warriors of the Amazon (NOVA Films & WGBH Educational Foundation, 1996), exploring the religious beliefs and social alliances of the Yanomami.

The Ax Fight (Documentary Educational Resources, 1980). A four-part analysis by Chagnon and Timothy Asch of a fight in a Yanomamo Indian village between local descent groups. Includes an unedited record of the event; a slow-motion replay of the fight; a discussion of the kinship structure of the fight; and an edited version.

The Language You Cry In (California Newsreel, 1999). This film explores linguistic evidence linking persons in the present-day Gullah culture of coastal Georgia with the Mende culture of 18th century Sierra Leone through the history of a song containing Mende words.

Anthropology on Trial (Time-Life Video, 1984). Examines the field of anthropology from the point of view of those who have been studied. Visits Papua New Guinea, which was originally studied by Margaret Mead, and explores the peopleís reactions to the anthropologistís conclusions about their culture.

The Merchants of Cool (PBS, 2001). Explores the culture in which today's American teenager is growing up and how they've come to view themselves and their parents.


Course Requirements and Policies
Exams

There will be two in-class, midterm examinations and an in-class, final examination. All exams are closed book. The exams will be composed of multiple choice and/or short answer questions. They will not be cumulative. However, basic questions from earlier portions of the class may appear on any exam. The first exam will count for 30% of your grade, the second for 30%, and the final for 40%.

When taking exams, you will be responsible for knowing the concepts and terms discussed in the assigned chapters of each of the books listed above, in the films shown in class, and in the topics covered in lectures, handouts, and web page summaries.

Participation

Your regular attendance and active participation are of central importance for this course to provide you with both a fun and satisfying educational experience.




Maintained by Chris Fennell
Please email any
comments or questions to:
cfennell@uiuc.edu