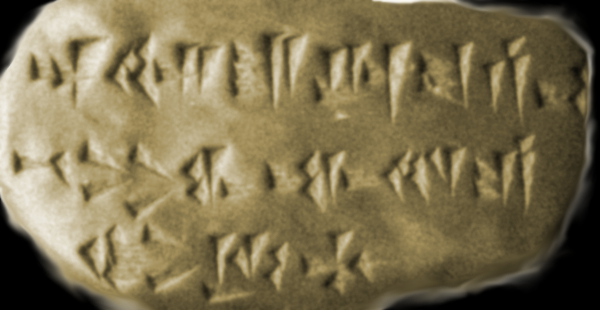 x+1
d
IM
URU
ur-ba-a-n[a
2'
BE-LÍ-NI
⸗wa⸗na-aš le-e
3' ḫar-ni-ik-ti

The Hittites, who called their tongue that of Neša (adverbial form:
Nešili
), were a group of Indo-Europeans who inhabited the plateau of central Anatolia and over time spread their influence throughout Anatolia and Northern Syria. Their might was renowned during the Bronze Age but their civilization did not outlast the troubles that befell that era. The Hittites worshipped a remarkably rich and eclectic pantheon of deities in elaborate and well-documented ceremonies, engaged in numerous administrative and legal projects, recorded the hymns, prayers, and myths of neighbouring and foregoing peoples, and corresponded with foreign states. Records of these activities were carefully preserved by scribes using clay tablets that have been excavated at various sites in what is modern-day Turkey. Though the Hittites borrowed heavily from Akkadian and Sumerian in their writing, as well as other aspects of their culture, Hittite texts disclose invaluable information about the evolution of Indo-European languages and about the Anatolian sub-family, in particular. The earliest written attestations of an Indo-European language, and the most extensive attestations of an (I-E) Anatolian language, occur in Hittite. Important discoveries relating to the linguistic structure of Hittite have changed our view of the Indo-European languages and how they changed over time. In addition, the Hittites produced bilingual texts in languages like Hattic and Hurrian, giving us rare glimpses into the structure of these ancient languages, as well. Beyond the linguistic aspects of Hittite, the fascinating cultural history of the Hittites is also worthy of study.

AN.TAḪ.ŠUM Festival
: In March 2019, we celebrated one of the most important festivals in the Hittite cultic calendar. Translated by some scholars as the 'Crocus' Festival, AN.TAḪ.ŠUM is an opportunity to celebrate the equinoctial return of the sun and welcome the Storm God back to Ḫatti-land. While it is not known exactly when the festival took place among the Hittites, in 2019 we gathered on March 27 when the AN.TAḪ.ŠUM
SAR
of Urbana were just coming into bloom. Events included a procession across the Quad to mark the path of the returning Sun Goddess of Arinna, as well as a performance of "Telipinu: The Vanishing God" (in English translation), and an evocation of the Storm God (in Hittite and Hattic).
Event Poster
|
Extended explanation
At left:
Participants at the 2019 Festival of AN.TAḪ.ŠUM evoke the Storm God of Urbana by crying into a ritual pit. The evocation, performed by students, faculty, and staff at the University of Illinois, is described in KUB XXXVI.89.
New Course
: LING 404 HTT "Elements of Hittite" coming in Fall 2019, taught by
Prof. Ryan K. Shosted
. An introduction to the writing, grammar, and culture of the Hittites. This course will give students a thorough introduction to Hittite cuneiform (approximately 357 signs adapted directly from Old Assyrian cuneiform), including Sumerograms and Akkadograms attested in the Hittite corpus. Students will be introduced to grammatical aspects of Hittite including nominal and verbal inflections. Throughout the course an emphasis will be placed on reading authentic Hittite texts. Students will also learn to make cuneiform transcriptions. No previous coursework in ancient languages or linguistics is required but students are encouraged to be familiar with basic grammatical concepts of phonology, morphology, and syntax, so LING 100 or equivalent is recommended.
Required course materials:
The Elements of Hittite
by Theo van den Hout (2011) and large quantities of clay.
At left:
Still frame from a video lecture in LING 404 HTT, demonstrating how to incise cuneiform signs in clay.