Q'anjob'al Language Documentation
Support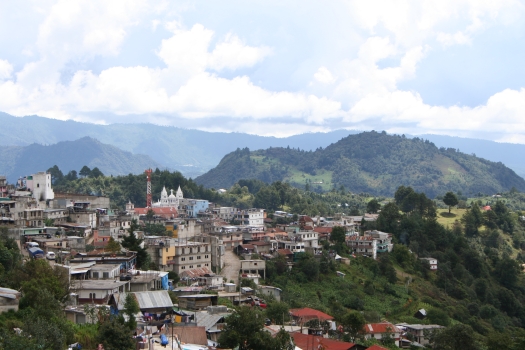 Q'anjob'al is spoken in the Department of Huehuetenango, Guatemala, in the mountain valleys of the
Sierra Cuchumateca
and at its northern base. Pictured here is the town of Santa Eulalia, a three-hour bus ride from the provincial capital of Huehuetenango.
Documentation of the world's vanishing languages is both crucial and time-sensitive. With each language that disappears, linguistics and its allied fields are impoverished, since there is subsequently less data that can be used to formulate theories of language, mind, and culture. Language documentation alone cannot stem the tide of language attrition. However, scientists can preserve the sounds and structures of extant human language for a coming day in the near future when there will be much less linguistic diversity in the world.
The proposed project will preserve lexical, phonetic, and phonological information about Q'anjob'al through the construction of an online multimedia database. This dictionary database, organized around lexical items (with their glosses in Spanish and English) will be supplemented by longer communicative events, including narratives and annotated conversations between native speakers. This will make Q'anjob'al material widely available for future research among linguists and others. More importantly, it will become a tool to help speakers of Q'anjob'al write and describe their own language.
Hallett, Jill. 2012. It's a special kind of frog: Co-creating teaching materials for the Q'anjob'al diaspora. Proceedings of the Symposium on Teaching and Learning Indigenous Languages of Latin America 2011.
Shosted, Ryan. Sept. 29, 2011. Documenting the Q'anjob'al language. Global Health Initiative Seminar: Wuqu' Kawoq: Multi-Disciplinary Healthcare in Guatemal. Urbana, Illinois.
Shosted, Ryan. Q'anjob'al in the classroom: What K-12 educators might learn from linguists. 2010. Urbana School District #116, Winter Institute Day. Urbana, IL.
Shosted, Ryan. Origins of the voiceless uvular implosive in Q'anjob'al. 2009. Conference on the Endangered Languages of Central and North America. Salt Lake City, UT.
Shosted, Ryan. On endangered sounds and endangered languages: Why phonetic language documentation still matters. 2009. Department of Linguistics, Brigham Young University (Invited talk).
Shosted, Ryan. The Implosive impulse in Mayan. 2009. Department of Linguistics, University of California San Diego (Invited talk).
Shosted, Ryan. Uvular variation in Q'anjob'al. 2009. Society for the Study of Indigenous Languages of the Americas. San Francisco, CA.
Shosted, Ryan. Linguistic structures of Q'anjob'al. 2008. Center for Latin American and Caribbean Studies. Urbana-Champaign, IL.