Contributors: Andrés Juan,
Ryan Shosted
, University of Illinois Linguistics Students (2016)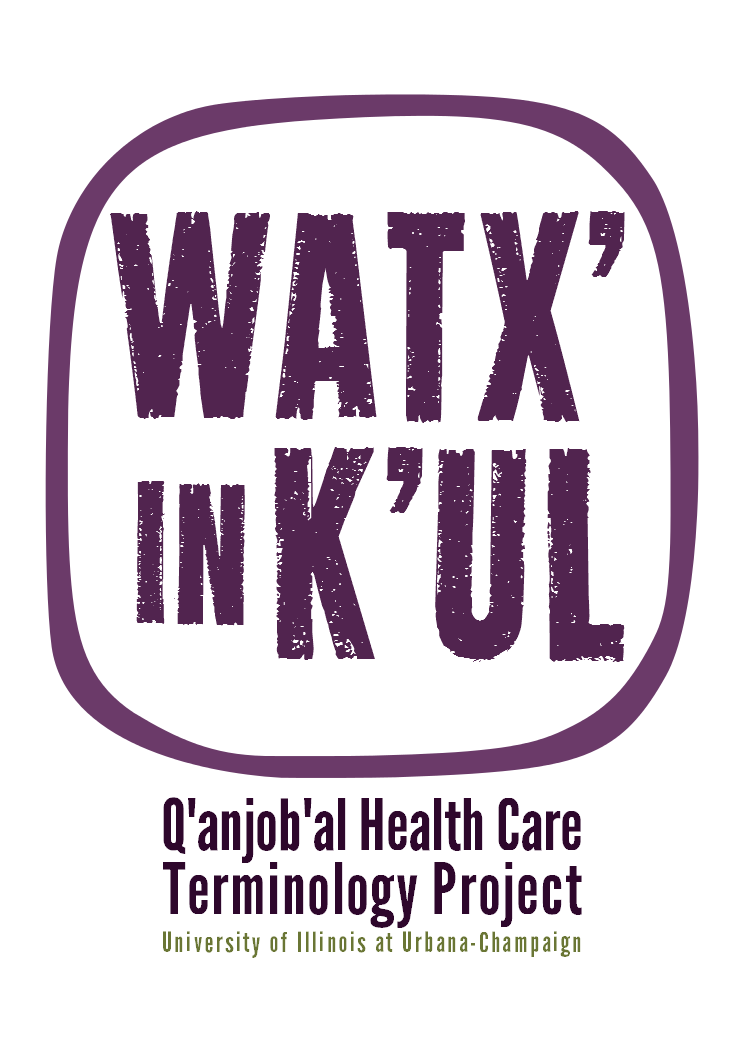 The following list of Q'anjob'al (Maya) anatomical terms was compiled by Prof. Shosted's undergraduate students (LING 490$RKS, 2016) participating in a language documentation course.
The items are sorted in terms of agreement patterns among the students, all of whom transcribed the same list. Therefore, we have the most confidence in the transcription/pronunciation of the words at the top of the list, and least confidence in the transcription of the words at the bottom.
For pronunciation resources, please see
Some additional resources in Q'anjob'al for school teachers
and watch for more resources to be added in the future.
| English | Q'anjob'al |
| --- | --- |
| hair | xil |
| heart | pixan |
| hip | nan |
| body | mimanil |
| forehead | nansat |
| gallbladder | k'a |
| back | ichinej |
| arm | q'ab' |
| neck | nuq |
| stomach | k'ul |
| face | sat |
| nose | txam |
| bone | b'aq |
| ear | txikin |
| hand | samil q'ab'ej |
| jaw | yalan tiej |
| eye | baq'sat |
| blood | chi:k |
| liver | tx'ix anima |
| teeth | e'ej |
| bladder | netal txulej |
| head | jolom |
| kidney | yub'al anima |
| tongue | aq'ej |
| foot | aqanej |
| eyebrow | txousatej |
| vein | txanil anima |
| skin | tz'umal |
| shoulder | jolom xik |
| leg | xub |
| knee | jolom penek |
| chest | txam kulej |
| navel | muxuk |
| mouth | ti: |
| eyelid | tzumal satej |
| nostrils | yolanil txamej |
| trachea | aujub |
| gum | piq' |
| ankle | nuqaqanej |
| throat | aujubej |
| rib | melq'etx |
| intestine | tx'akan |
| chin | metxi tiej |
| finger | yixilma q'ab'ej |
| skeleton | baqilej |
| eyelash | xilsatej |
| shoulder blade | jenxhik |
| nape | yich jolomej |
| appendix | apendise |
| esophagus | yulun uk'ej |
| brain | kawehal jolom |
| palate | jolom tiej |
| cheek | chibejal satej |
| lips | xajti |
| palm | txip' |
| elbow | wasab'al q'abej |
| wrist | nuq q'abej |
| lung | k'ajpat |
| muscle | k'auch'enenaqil |
| thigh | q'onq'on |
| fingernail | isq'aq' |
| toenail | yisq'axil ajanej |
| heel | txopajanej |
| thumb | txutxal q'abej |
| backbone | baqil itzinej |
| calf | tzawajan |
| adam's apple | oq'obej |