𐐡

𐐪𐐷𐐲𐑌

𐐗

.

𐐟

𐐱𐑅𐐻𐐯𐐼
𐐑𐑉𐐲𐑁𐐯𐑅𐑉 𐐱𐑂 𐐢𐐮𐑍𐑀𐐶𐐮𐑅𐐻𐐮𐐿𐑅
𐐏𐐭𐑌𐐮𐑂𐑉𐑅𐐮𐐻𐐮 𐐱𐑂 𐐆𐑊𐐮𐑌𐑎 𐐰𐐻 𐐊𐑉𐐺𐐰𐑌𐐲-𐐟𐐰𐑋𐐹𐐩𐑌
𐐓𐐨𐐽𐐮𐑍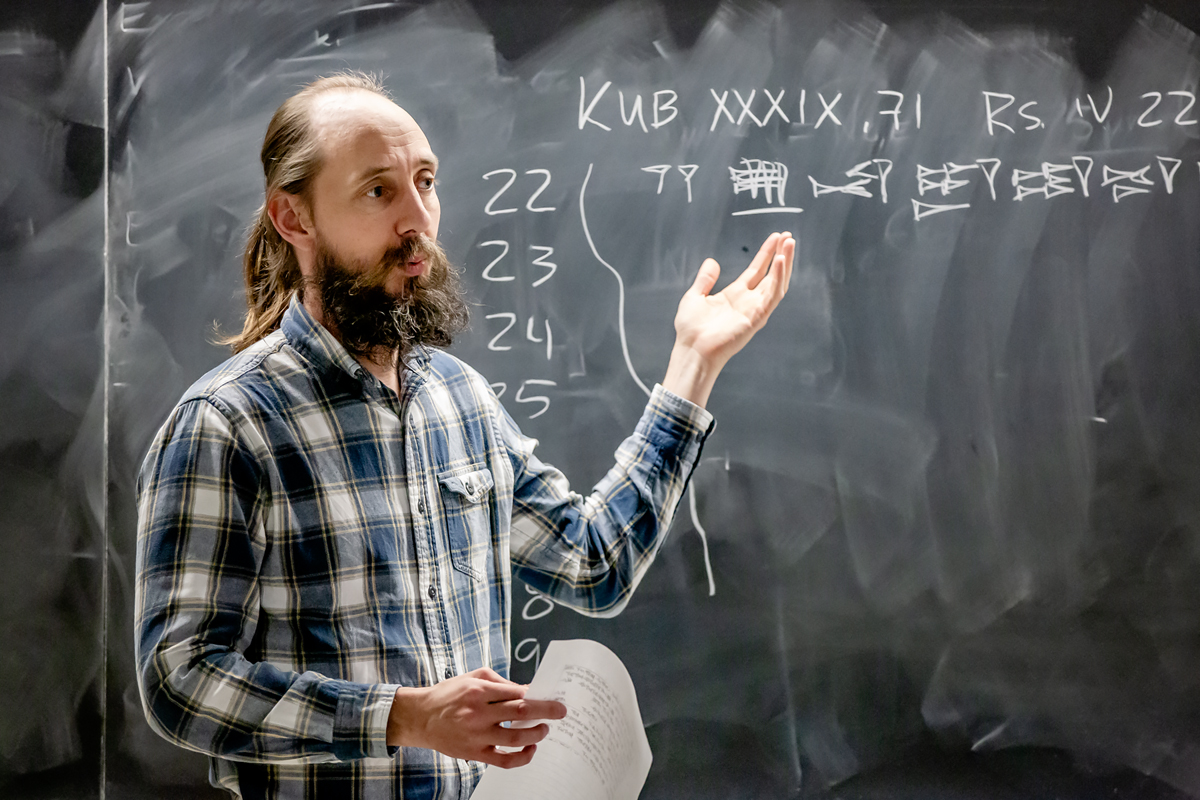 Prof. Shosted teaching Linguistics 404 "Elements of Hittite", Fall 2019.
Photo credit: L. Brian Stauffer, Illinois News Bureau.
Course websites
If you are a student, guest, or teaching assistant enrolled in one of Prof. Shosted's courses, please visit Learn@Illinois (Moodle) to find the course website.
Hittite (Ling 199 CHP)
Visit the Illinois É.DUB.BA for Hittitological Inquiry to read more about this Campus Honors course and upcoming events.

Current courses (Fall 20)
Ling 100: Introduction to Linguistic Science
Ling 401: Introduction to General Phonetics
LING 404 HTT: Elements of Hittite
Past courses
For University of Illinois course descriptions, please see
The Catalog
.
Ling 100: Introduction to Linguistic Science(Fall 16-21)
Ling 199 (CHP): Hittite Language and Culture (Spring 21, Fall 21)
Ling 199: Constructed Languages: Linguistics in Art and Entertainment (Fall 15)
Ling 302: Elements of Phonology (Spring 09; Spring 12-14; Spring 16-17; Summer 17-21; Spring 19-21)
Ling 401: Introduction to General Phonetics (Fall 07-08; Fall 10; Fall 12-21; Summer 18-21)
Ling 404 (HTT): Elements of Hittite (Fall 19-20)
Ling 404 (HT2): Elements of Hittite 2 (Spring 19)
Ling 502: Phonology 1 (Spring 17-18; Spring 20)
Ling 504: Practicum (Fall 13; Fall 17)
Ling 516: Field methods (Spring 08; Fall 08; Spring 10-11; Spring 14; Spring 18)
Ling 520: Acoustic Phonetics (Spring 08-09; Spring 10; Spring 12; Fall 13; Fall 15)
Ling 522: Articulatory Phonetics (Fall 10; Fall 12; Fall 14)
Ling 542: Phonology 2 (Spring 19)
Ling 582: Nasalization (Topics in Phonological Theory) (Fall 07)
Ling 591: Quantitative Methods in Phonetics and Phonology (Spring 13)
LL 268 (State University of Campinas): Modelos Quantitativos de Fonética e Fonologia (Summer 15)
Lign 120 (UC San Diego): Morphology (Spring 07)
Lipo 1DX (UC San Diego): Analysis of Portuguese (Winter 07)
Teaching Awards